Setting a recurring invoice and bill document is not an uncommon practice when running a business.
At times, you will constantly purchase from your vendors to replenish your stocks, or your customers will keep buying from you because they love your products.
Hence, setting a recurring invoice and bill document on a predefined schedule in Deskera Books can help you reduce your manual tasks indefinitely.
Follow the steps as mentioned below to create a recurring bill or invoice document:
Go to Sell tab for creating recurring invoice document. On the hand other, go to Buy tab if you wish to create recurring bill document.
2. Click on the contextual menu and of the invoice or bill document.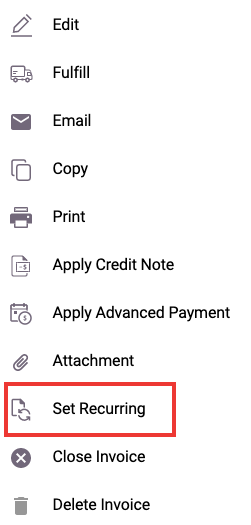 3. Select Set Recurring button.
4. This will open a dialog box and you will need to indicate the field in the dialog box: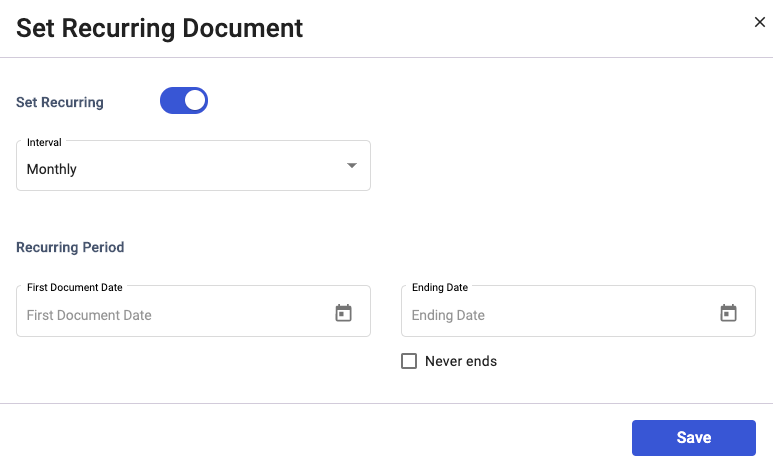 Enable the recurring button to activate this feature
Interval - Choose from the dropdown option. This can be yearly, monthly, weekly and you can even customize the date.
Under the recurring period, choose the first date and the end date for the recurring document.
Once you indicate the first document date, you will prompted with the next recurring document date.
Tick the checkbox below if you need to recur the bill/invoice document for long-term.
5. Click on the Save button.
This feature is applicable for your Quote and Order document as well. Once you have successfully set the recurring date for each document, you can allow Deskera Books to automatically populate the document for you based on the fix date.