With Email Sync in Deskera CRM, you can automatically capture your messages to and from your Contacts to your Account Activities. Once set up, any messages exchanged between your Deskera CRM Users, and Contacts will record to the account timeline. It means you have a full record of all your correspondence.
With the Deskera CRM system, users can connect their email to a CRM account so that they can compose, send, receive, and track CRM contacts email directly from my CRM account.

Below are the steps to Sync your email to Deskera CRM

Deskera Users can connect their email accounts either from settings or Deal/Contact page
1.If you want to sync your email to the CRM system, you need to enable the email sync function under the settings tab and then click on the Email button, which will allow you to sync your emails with the system.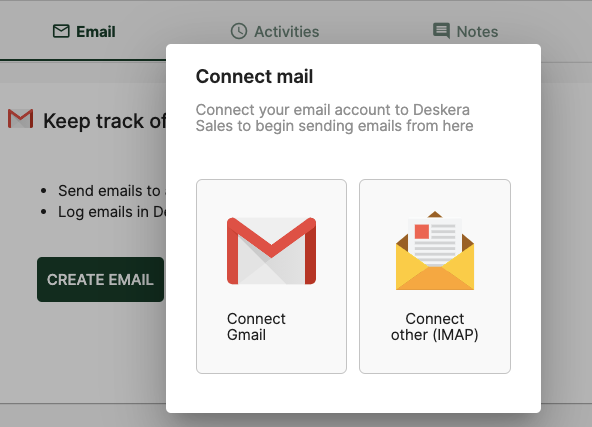 2. On the Email setting page and Deal/contact page, you will see an option to Connect your email with Deskera CRM, where you can send emails to the contacts you have created and log emails from your client.
3. Next to connect your account, click on the Create Mail button, which will populate two options to connect your email account via Gmail or IMAP to Deskera CRM, users can then start sending emails from here.

4. To set up email via, IMAP you need to fill in below details: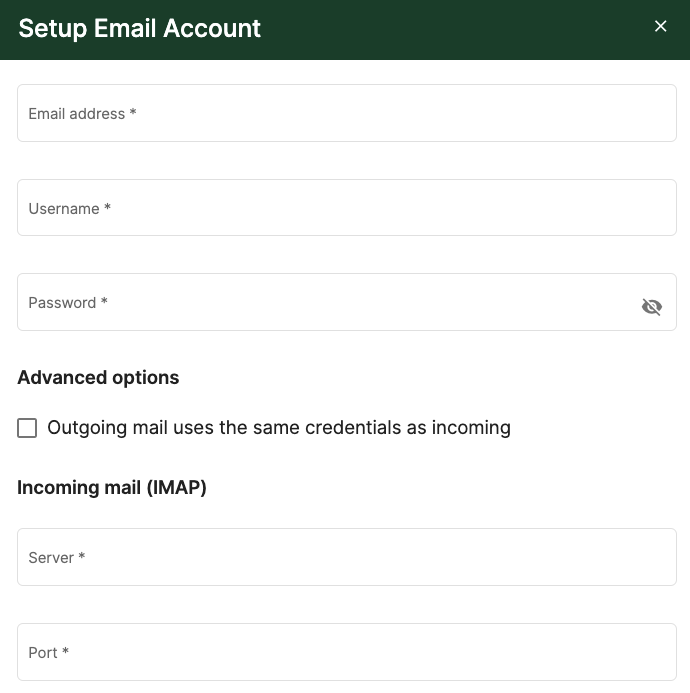 Enter your Email address and Password used to log into your email account. Deskera CRM will be able to recognize your server's IMAP and SMTP settings after entering your email address and Password. Or, your IMAP and SMTP server information will populate automatically, if an admin in your account has already configured your domain's IMAP settings.
By clicking on Advanced Options and entering your server and port information for Incoming Mail (IMAP) and Outgoing Mail (SMTP), you can also connect your account. If necessary, You can also select the checkbox under server security to Allow non-secure certificate.
5. Once the above details are entered correctly once the a, click on the Save button, and your account will be authenticated to connect with your Deskera CRM account.
6. Similarly, you can connect your account via Gmail Account by entering the email address you want to use. If you have already logged into one or more of your Gmail accounts, choose the account you want to connect.
7. You can also sync your email account with Deskera Sales from Deals and contact created via, Gmail or IMAP.


Under the  Email section, click on the Create Email where you can connect your email account with Deskera sales account for sending an email either by entering your Gmail account credentials or by connecting with the IMAP account.
What are log emails under the Deal and contact page?
A logged email is recorded on the recipient's contact timeline in Deskera CRM. You can keep track of your email communication with a prospect in Deskera CRM to help you understand where they are in the sales process.
1. To create a log email click on the log email button, and below window will appear.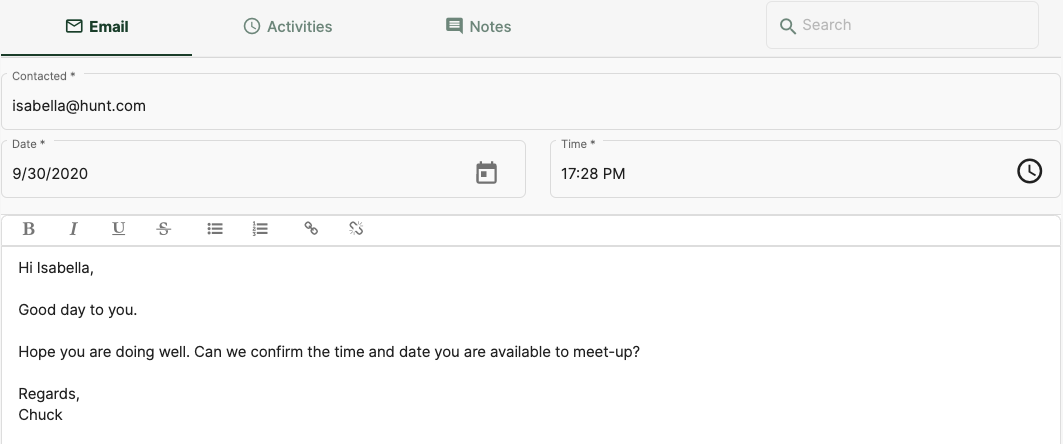 2. Email can be logged with information like- contact person email address, date, time, and text. Users also have an option to  select multiple contacts if required
3. Please note, the user does not need to connect their mail account to log the emails.
4. Lastly, click on the Log button where your email will be logged in.
5. By clicking on the Add comment option a blank text message box will appear where you can add a reply.
In this way, you can use this history of logged emails to keep track of past relations and make sure that you are communicating regularly with your most promising leads.
Disconnecting email connection

If you would like to discontinue using the email id connection synced with Deskera CRM you can do so by clicking on the "TURN OFF SYNC" option available on the setting page.
Now, all your incoming and outgoing mail will be synced to your Deskera account and will be associated with the corresponding contacts and deals easily.
Congratulations!  You have successfully learned how to connect email account using Deskera CRM.